Canadian home sales rise again in September- CREA
Date Posted: October 18, 2019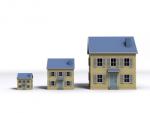 According to the latest report from the Canadian Real Estate Association (CREA), September home sales rose once again by 0.6% month-over-month while year-over-year, sales we up 15.5%.
"National sales activity has begun to rebound in recent months," said Jason Stephen, president of CREA. "That said, all real estate is local, so there's a lot of variation in the strength of the rebound depending on the housing type, location and price segment."
""Home sales activity and prices are improving after having weakened significantly in a number of housing markets," said Gregory Klump, CREA's Chief Economist. "How long the current rebound continues depends on economic growth, which is being subdued by trade and business investment uncertainties."
The national average price for September home sales increased by 5.3% from September of 2018 for a price of $515,000. Excluding the GTA and GVA markets, the average home price was just under $397,000 which represents a 3.3% increase from last September.
To read the full report from CREA, visit their website here.
For more information, contact your Mortgage Broker today.